Approximately 26,000 eighth graders attended Chicago Public Schools (CPS) last year. A pinnacle year in the life of a growing teen, eighth grade traditionally marks the final year of elementary school in Chicago and ushers in the transition to high school. For CPS' eighth graders, the final semester of 2019–20 was fraught with fall-out from the COVID-19 pandemic: school closures, a sudden shift to online learning, cancelled celebrations, drive-through graduation, and a summer of navigating what the next school year would bring.
Student Supports Managers at Communities In Schools of Chicago recognized that eighth graders needed extra support during this challenging time. Once schools moved online, our team reached out to students not engaging in remote learning to make sure they had the tools they needed to finish the school year strong. They attended their schools' socially distanced graduation ceremonies to share well-wishes with graduates. And they stayed in contact with their eighth graders over the summer to support their transition to high school.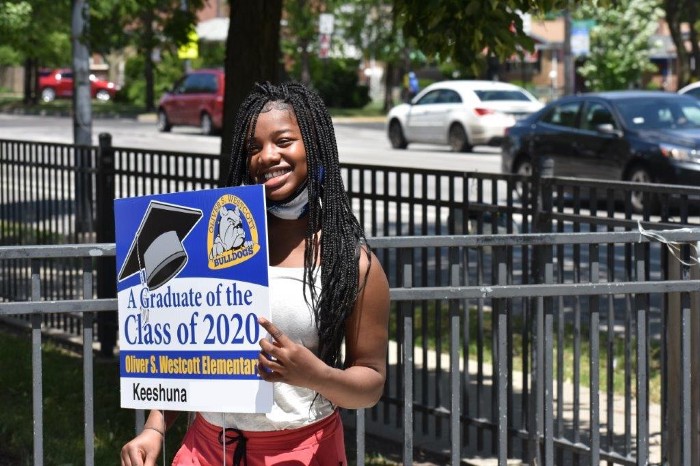 Kenneth Stratton, a Student Supports Manager at Hefferan Elementary on Chicago's West Side, said many of his eighth graders were experiencing tremendous loss this spring — from family members getting sick and parents trying to make ends meet to the absence of social interactions that school communities provide. Once Hefferan Elementary made the switch to remote learning, Mr. Stratton checked in with parents and simply asked, "How can I help?" He heard about the struggles they were facing and found ways to advocate for his eighth graders, including making sure they had Chromebooks, Wi-Fi access, and social and emotional support so that they could continue learning.
This summer, Mr. Stratton continued to engage parents of eighth graders. They discussed CPS policies and plans, what to expect from remote learning in a high school structure, and creative ways to keep the students focused this fall. He made sure that students had all the supplies they needed for their ninth-grade year. Mr. Stratton also provided guided activities easy for parents to administer related to self-esteem, positive affirmations, and self-care. These activities helped both students and parents feel supported and confident as they began high school.
Our Student Supports Managers based at high schools have found ways to pick up where Mr. Stratton left off and support rising freshmen as well. Simone Woods, based at Michele Clark Academic Prep Magnet High School, tapped into the Michele Clark Connections (MC2), a summer program for incoming freshmen to meet teachers and support staff, learn study skills, and build community. During MC2, Ms. Woods led mindfulness sessions twice per week. With everything going on this year, Ms. Woods thought it was important for ninth graders at her West Side school to take a moment to acknowledge how they were feeling and how they were coping with stress and anxiety. Through mindfulness activities, Ms. Woods provided the students with different techniques they could use this academic year to make sure their social and emotional health was a priority, in addition to their classwork and attendance.
Across town, Stephanie Estrada, a Senior Student Supports Manager based at Mather High School on the far North Side, was also able to greet students virtually at her school's Freshman Connection program. She facilitated a session on the mental health and social-emotional supports available at Mather and reassured students that whether school is in-person or remote, they will be supported by a dedicated team of professionals.
"Even in normal times, the first year of high school can be a stressful experience," said Jane Mentzinger, CEO of Communities In Schools of Chicago. "A smooth transition to ninth grade is critical to placing students on a strong academic path."
Communities In Schools of Chicago currently embeds seven Student Supports Managers at high schools across the city. This year, our team is increasing its support for incoming high school students by launching a new "Freshmen Rising" initiative to serve even more ninth graders in this critical year.
A Freshmen Rising Coordinator will soon provide one-on-one support to approximately 75 rising ninth graders during their transition from elementary school to high school. Students enrolled in the initiative will receive ongoing guidance and structured lessons to build their social-emotional learning skills. Our new Freshmen Rising Coordinator will also help ninth graders on their caseload stay engaged with learning and maintain good grades. Research shows that if students are academically and socially on track in ninth grade, their odds of graduating improve significantly.
Through our multifaceted and expanding approach to supporting rising ninth graders, CIS of Chicago is helping ensure that even more Chicago public-school students graduate prepared for success.