Al G. Ward Spirit of Giving Award
Each year, Communities In Schools of Chicago presents the Spirit of Giving Award to both a community partner and a school partner who consistently go above and beyond to positively impact the lives of Chicago public-school students.
The Spirit of Giving Award honors Alfred G. Ward, one of our founding board directors, who spent 15 years of his life championing the cause of the city's students. In 2021, the Spirit of Giving Award was presented to:
ILLINOIS HOLOCAUST MUSEUM EDUCATION TEAM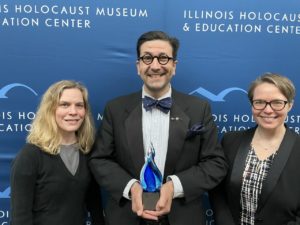 In the past 12 years of partnership with CIS of Chicago, the Illinois Holocaust Museum & Education Center has served more than 50 different partner schools with quality programming. The Holocaust and Human Rights are difficult topics, but the Education Team makes the content age appropriate, digestible, and engaging for multiple learning styles so that all students can participate and learn. The team is committed, responsive, and creative. Each year, they ask, "How can we better serve Chicago Public Schools students?" – going so far as offering busing for an evening program.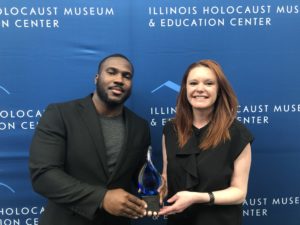 Whenever schools have questions about programs, resources, or their scholarship process, school staff always receive a quick reply from the Illinois Holocaust Museum. As a dedicated partner, the Illinois Holocaust Museum's Education Team actively engages in CIS's NAVIGATE training series to sharpen their skillset. NAVIGATE workshops are provided by our Partnership Team and offer community organizations a way to invest in their professional development and network with each other. In the past three years alone, the Education Team has attended nine different NAVIGATE events and has even led one training.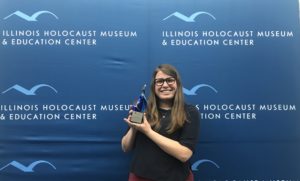 They are also highly innovative. Despite a challenging year with remote learning, the Education Team found ways to promote collaboration between the museum and CIS of Chicago schools. This included connecting with other CIS partners like The Peace Exchange and the Race Exhibit and creating a larger Leadership Day for students across Chicago. 
KATIE STYZEK, VOLTA ELEMENTARY SCHOOL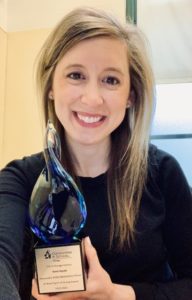 Since Katie Styzek became the counselor – and CIS of Chicago site coordinator – at Volta Elementary School three years ago, she has hit the ground running. Her dedication to serving students is evident in the way she enthusiastically collaborates with the CIS team to bring resources and programming to Volta. Katie is a planner. She schedules programs early and engages Volta staff consistently, providing detailed schedules to teachers when partners are joining a class to present.
Katie is thorough. She works with the CIS of Chicago team to provide information about programs, as well as her experience with scheduling them. Finally, Katie is engaged and dependable. She actively participates in CIS's ACTIVATE training series to connect with other school site coordinators and gain new skills, and she is intentional about scheduling community partner programs for Volta. Katie connects an average of 20 programs each school year.