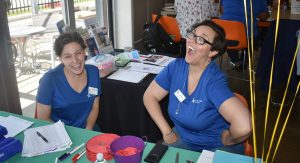 Preventing student dropout in Chicago's public schools takes a team of professionals who are smart, passionate, creative and fearless. Colleagues come to our organization with experience honed in classrooms, grassroots nonprofit organizations, global agencies, law environments, and more. They stay because they are challenged to accomplish measurable and meaningful work, and when they leave, they are prepared for even more demanding jobs, or graduate school or nonprofit leadership.
If you'd like to join our team, review the open position(s) below. And, get to know us better by following our work on social media or reviewing our most recent Annual Report.
*Four Student Supports Manager positions are currently open.