The third-largest city in the country, Chicago is a cultural hub. Home to dozens of museums specializing in art, history, science and industry, even architecture. In typical school years, many of these museums offer educational programming and field trips at no cost for Chicago Public Schools students, and they rely on Communities In Schools (CIS) of Chicago to connect them with schools seeking their services. Field trip experiences not only expand our students' horizons, but they also spark their curiosity and love of learning.
CIS of Chicago Arts Partnership Specialist Emma MacLean serves as this connecting force and helps activate students' sense of possibility. She coordinates with her colleagues on the Partnership Team to learn what types of programming schools are prioritizing, and then she leverages her relationships with museums, cultural institutions, and arts organizations to fill those needs.
Since remote learning began, CIS of Chicago arts partners have had to completely shift the way that they offer student programming, but museums, in particular, have had to rethink the way that they deliver field trips. To address this massive pivot in the typical field trip format, Emma MacLean began convening virtual Museum Meetups. These events serve as opportunities for museums in our community partner network to gain insight from colleagues in the industry on how to launch a virtual student field trip.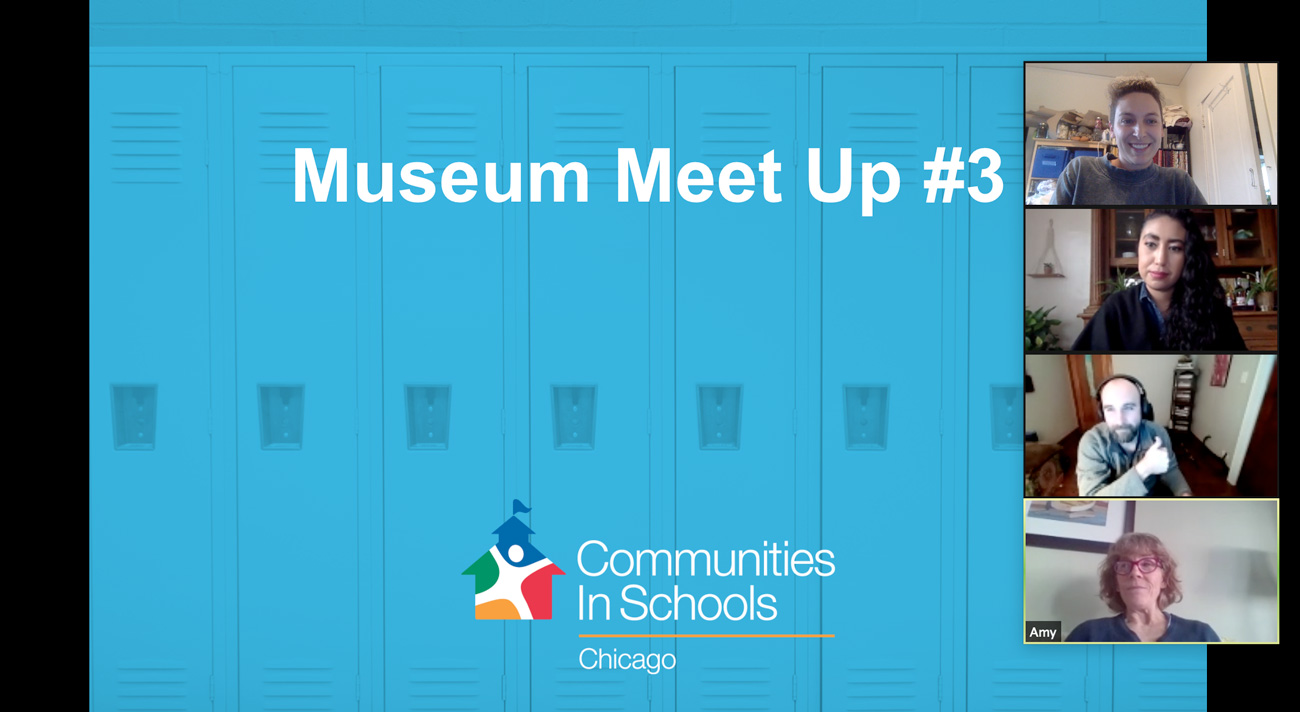 For the second Museum Meetup this fall, the National Veterans Art Museum (a CIS of Chicago partner) co-facilitated the session. They discussed everything from the logistics of an online student field trip to marketing the program through CIS of Chicago, preparing teachers for the experience, and engaging the student audience throughout. For the National Veterans Art Museum, their virtual field trip incorporates art and photos of the general space. "When we go on field trips, we don't stare from artifact to artifact," Emma said. "We scan a whole room and then choose to dig in deep on a specific piece." She shared how the National Veterans Art Museum is replicating the museum experience and how they are also incorporating guest speakers and hands-on activities. After the field trip concludes, the museum then seeks feedback from students and teachers on how they can improve.
This semester, Museum Meetups have provided a space for partners to not only build camaraderie and share new ideas, but also a place where they can troubleshoot potential roadblocks. A major concern of our museum partners was how they could replicate the experience of physically examining artifacts or objects. For instance, the Peggy Notebaert Museum incorporates taxidermy animals and other object-based learning practices in its school field trips, but what would this tactile experience look like in remote learning?
Partners have innovated this aspect of their field trips by encouraging students to identify and present objects in their homes. For example, the National Veterans Art Museum encouraged one student to share a medal he had from his grandfather's wartime experience. The Oriental Institute (OI) incorporated a craft that students could make with items they typically have on hand. Other engaging activities have included sharing short videos, asking students to free-write, and even having them sketch while they are listening to music. One opportunity that Emma has seen arise is the ability for museums to tailor their collections more seamlessly into the classroom.
"Partners want to meet what teachers need, so I think there is a general openness to programming changing and shifting so that it can be most utilized," Emma said. "I think that's really what we're hearing from partners across the board this year is we want to make the programs that you're going to use, so how can we make this easily accessible for you?"
Through Museum Meetups, partners have realized that they are not alone in navigating this new educational landscape. A host of museums across the city are working to pivot their traditional field trips — and they have CIS of Chicago in their corner to help them meet these needs. "It's sometimes nice to be with other people and just acknowledge this is not the ideal," Emma said, "but there is a camaraderie in this time that I get to see with partners, and I feel really lucky to facilitate that."
Learn more about Emma's support of arts partners with virtual field trips, as featured on two Chicago media outlets:
ABC 7, November 22, 2020: Chicago Public Schools Students Take Virtual Field Trips with Help from Nonprofit
Fox 32, November 18, 2020: CIS of Chicago Connects 175 Local Schools with Virtual Field Trips