Early on in my work-from-home life, I realized that I had left a few much-needed items behind. I hopped in my car on a bright and sunny Chicago day and ventured to our office building on Van Buren. Entering the space alone, I felt a stillness in an office which typically hummed with activity.
I quickly grabbed my items, and on my way out, I felt compelled to snap this picture. I often feel compelled to take pictures of things that inspire me, mostly on nature walks in my favorite Chicago park, but this scene spoke volumes to me. I wasn't used to experiencing stillness and silence in this space.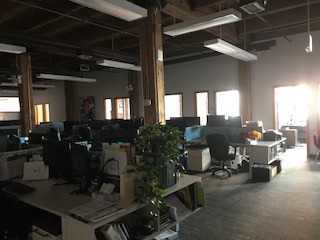 Several weeks later, with remote work continuing and an active stay-at-home order in place, this photo resurfaced in my mind and prompted me to reflect on our current situation. Here are a few things this photo illuminated for me:
Working collaboratively with like-minded and like-hearted people is one of the best parts of all of the jobs I've have ever had, and Communities In Schools of Chicago is no different. In today's environment, I feel the absence of my colleagues daily, and I have personally initiated conversations with colleagues who inspire me and motivate me. I have been so grateful for how our organization continues to hold collective space for our entire team as we try to innovate to meet the needs of students.
Our team connection has ranged from virtual all-staff and departmental meetings, virtual healing circles, happy hours, and much more. As we continue to collaborate and connect, I feel the absence of my colleagues less as the weeks go by.
While our office space functioned as the hub of operations, our hearts are centered on continuing to serve Chicago public-school students and families. That work has not stopped. On the contrary, it has developed and continues to emerge through creativity, innovation, and tenacity. While continually adapting comes with many challenges, we are not deterred; in fact, we are invigorated. I have been proud to see the ways we have innovated and remained nibble, well-networked, and responsive to the moment.
It is through the foundation of strong relationships with community partners and schools that we now relay even more to reach our students and staff in their homes during this unprecedented school year. So, while our physical office remains closed, our work is alive and well.
The imperative to support our children and their families has never been clearer. The COVID-19 pandemic has heightened our society's awareness of long-existing inequities. Many students and families are struggling in this time, from the loss of developmental milestones, like 8th and 12th grade graduation, to the lack of consistent meals and adult support.
As a professional whose background is primarily in psychiatric care, I am aware that students' needs for mental health care when in crisis are typically initiated in the school setting. This makes CIS of Chicago's expanded efforts to reach families that much more important.
Through our TeleSupport Program and increased family contact, we can provide resources, facilitate supportive check-ins, and serve as a sounding board in the event of crisis or concern. I am heartened to know that increased organizational collaboration is making a difference in the lives of CPS students across this city. As a Field Supervisor, I hear the stories daily.
Snapping that picture of our empty office and feeling the sense of quietude brought on a deeper emotion for me… sadness. From a safe distance, I was able to chat with our very kind parking attendant, who often makes my day. I realized I was really going to miss seeing him, and this was a loss that I hadn't anticipated. Friendly faces are intrinsically a part of my daily work routine at CIS of Chicago.
As the weeks continue on, this seemingly innocuous photo has come to represent the host of emotions I'm feeling — and I'm sure many of my colleagues share. And despite its apparent emptiness, it also illuminates that it is the people who make this organization so impactful. I feel fortunate to call them colleagues and friends. And while this office space is the hub of our work, the heart of our work is with each school, with each community partner, and with each student. CIS of Chicago supports students, in schools and beyond.